My name is Thomas Sturm and I'm a programmer, photographer and writer.

Now go outside and look at the sky.
Where's Gigi?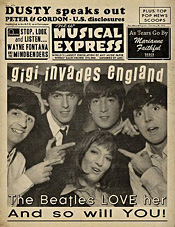 New York based artist Josh Gosfield has created a quite astonishing piece with his "Gigi Gaston, The Black Flower" exhibition, which just recently closed at the Steven Kasher Gallery in Manhattan.
Gosfield manufactured the life story for an imaginary 1960s French singer, complete with posters, records, many magazine covers and even a music video and documentary material. All of it done to excess.
I would have loved to see the pieces in real life and really hope this show makes it to the Bay Area sometime - the style of the artwork on the records and the magazine covers captures the feeling of the 60s in every detail and the range of the created evidence of Gigi's existence is amazing.
Gosfield spent more than a year working on this project and not only must have photoshopped his heart out, he also commissioned songs to be written and created a short film documentary about the life and times of Gigi.
What is interesting to me is that while browsing through the pictures and looking at the videos, knowing all along that this is fake history, every now and then doubt sets in - maybe Gigi Gaston did exist! And if so, where is Gigi now?