My name is Thomas Sturm and I'm a programmer, photographer and writer.

Now go outside and look at the sky.
Evening Light
A couple of weeks ago I pulled my Kodak Vigilant from its perch on the shelf and loaded it up with some film for the first time in years. The last time I used it I had been somewhat unhappy with the results, but it may have been badly re-rolled film more than actual issues with the camera.
Here's two shots I took with the Kodak Vigilant Six-20 on Ilford Delta 100 film, shooting into the evening sun down along Sutter street from my office window.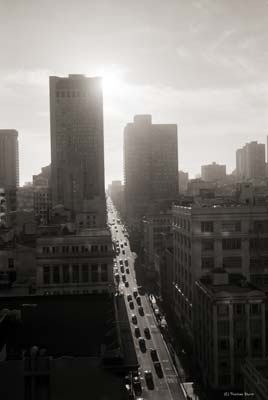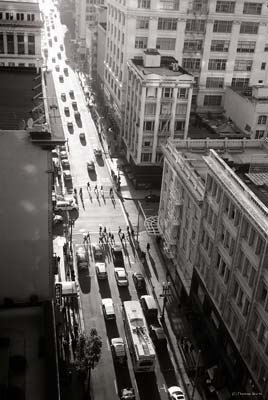 Again, as so often with these vintage cameras, a pleasant surprise. After seeing these pictures I started to do some more research on the Vigilant and as it turns out, mine is one with a rather inferior lens - a f8.8 with Dakon shutter from 1946.
The Vigilants were made over a period of ten years until about 1949 with at least ten different lens/shutter combos, and so I went out and started looking. Just recently I've now found a Vigilant with a f6.3 lens with the same reliable Dakon shutter and I'm looking forward to do some comparisons between the two lenses...