My name is Thomas Sturm and I'm a programmer, photographer and writer.

Now go outside and look at the sky.
Old Favorite
It's always a challenge to find a new angle for a well-photographed subject like the Golden Gate Bridge, and often enough I'm utterly disappointed by the complete absence of inspiration in my pictures of the bridge...
But then again sometimes it just all works together - well, at least for me. :-)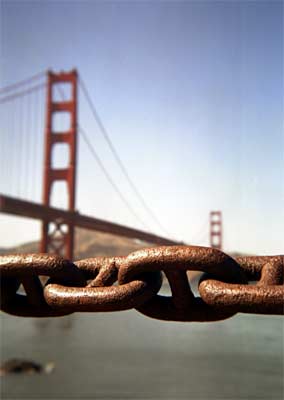 This picture was taken with a Kodak Brownie Bull's Eye with the close-up attachment on Agfa Optima 100 film. I am very fond of this camera (as anybody who's seen this site can tell!) and especially the close-up attachment allows for very unusual and beautiful pictures of ordinary or overused subjects.