My name is Thomas Sturm and I'm a programmer, photographer and writer.

Now go outside and look at the sky.
Old Light
As I've mentioned in my previous post, I became a camera collector of a sort... and the really exciting part is to actually drop some film into a camera from the 1940s, go out and take pictures!
Here are two examples of what is possible with these cameras. The first picture was taken with a Kodak Bull's Eye Brownie from the mid-50s, the second picture with a foldable Kodak Monitor Six-20 from the mid-40s. Both cameras use 620 film which can not be bought nowadays, but it is possible to shoot 120 film without any alterations, as long as an old 620 spool is used in the camera to wind up the film.
Both cameras produce huge 6x9 cm negatives on 120 film - providing lots and lots of film material for enlargements. In this case, I've scanned the negatives directly at 1600 dpi to produce these images. The small details on this page are at full scan resolution and you can click through to a small version of the full picture.
Here is a detail of a nightshot with the Kodak Bull's Eye Brownie (click for full picture):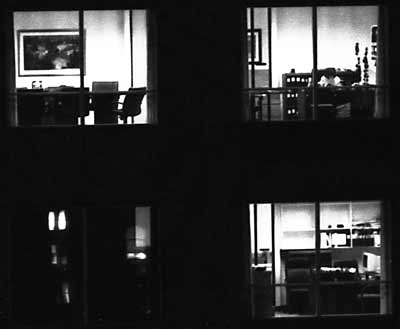 And here is a full resolution detail of a picture taken with the foldable 1940s Kodak Monitor Six-20 (click for the full picture):