My name is Thomas Sturm and I'm a programmer, photographer and writer.

Now go outside and look at the sky.
A Hill With a View
A few weeks ago we went on an grand road trip all the way from Sausalito to Glenwood Springs in Colorado. Much can be said about the sights along the way and you might encounter further blog entries in a short while.
I happened to have some free time in Glenwood Springs since I skipped the skiing due to back problems that I did not want to make worse and as the morning on Christmas Day cleared after a night of light snowfall I took a walk through town to a hill on one side where I had seen a hiking path marked on the map.
The snow covered path led steep uphill through a small forest and the walking was slow and strenuous in the loose powdery snow. Sometimes I slipped back almost as much as I stepped forward. My breathing was hard since I hadn't really adjusted to the altitude yet.
The sun had come out and the view became increasingly glorious as I slowly wound my way up around the hill to the old town cemetery from where I could take in the panorama of Glenwood Springs surrounded by snow covered mountains.
The cemetery had several signs on the way up pointing to Doc Holliday's grave - and how could I resist that?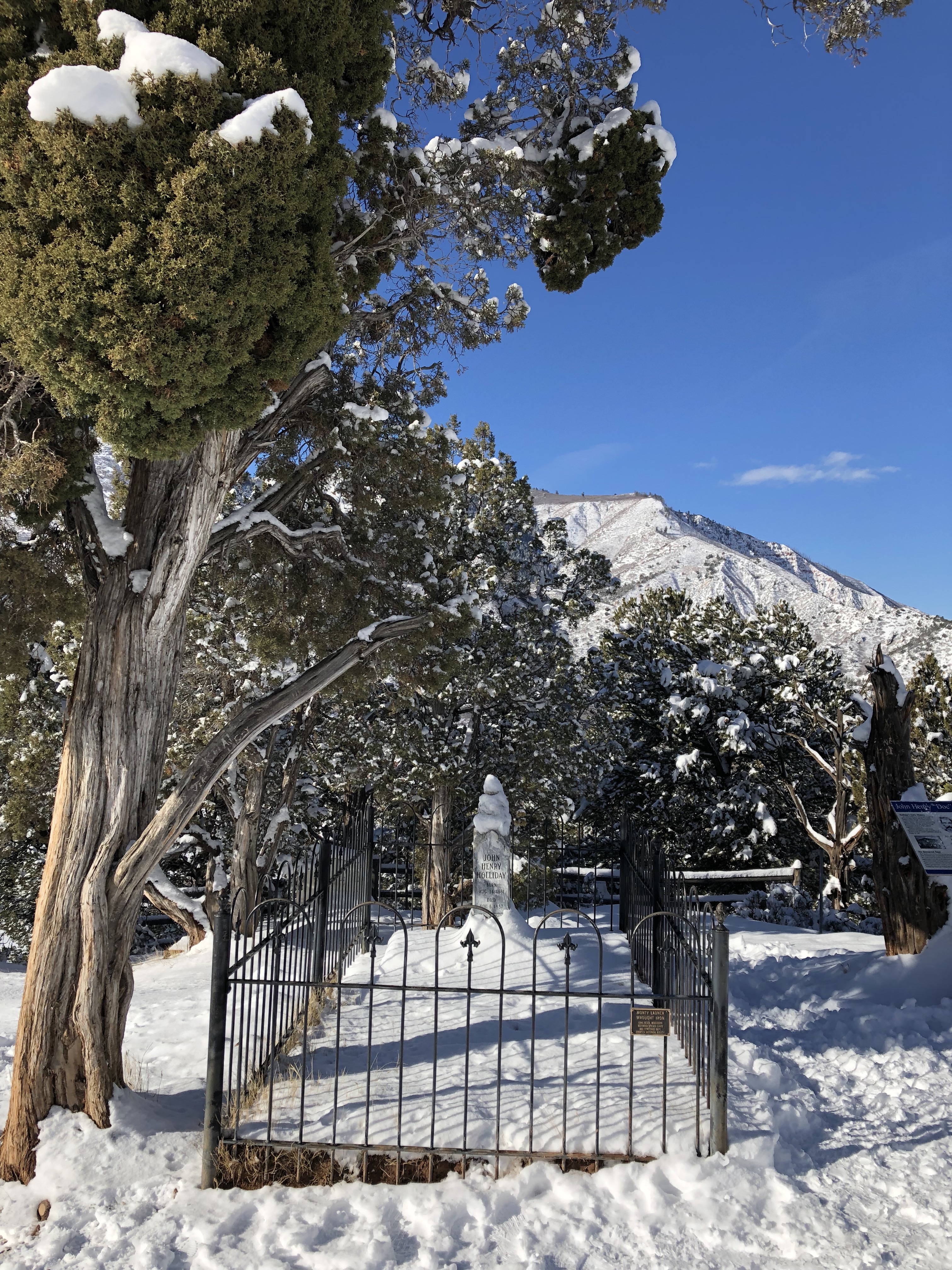 His grave had been restored over the many years and its original location was not necessarily certain, but the current stone sure enjoyed a prime spot near the edge of the hill under some ancient trees. It was strange to stand there. I had never paid much attention to Holliday's story, but I was certainly aware of his fame as a gambler and gunslinger. I was surprised that he had only made it to 36 years and that what got him at the end was tuberculosis and not a bullet.
Many of the pioneer graves up in this little cemetery had tragic stories to tell. Life had been hard in the mountains in the 1800s and many people died young under unbelievable hardships. Near the path was a grave with some flowers on it - young Beulah Rowden had died only twelve years old more than a hundred years ago, but somebody still brought her flowers.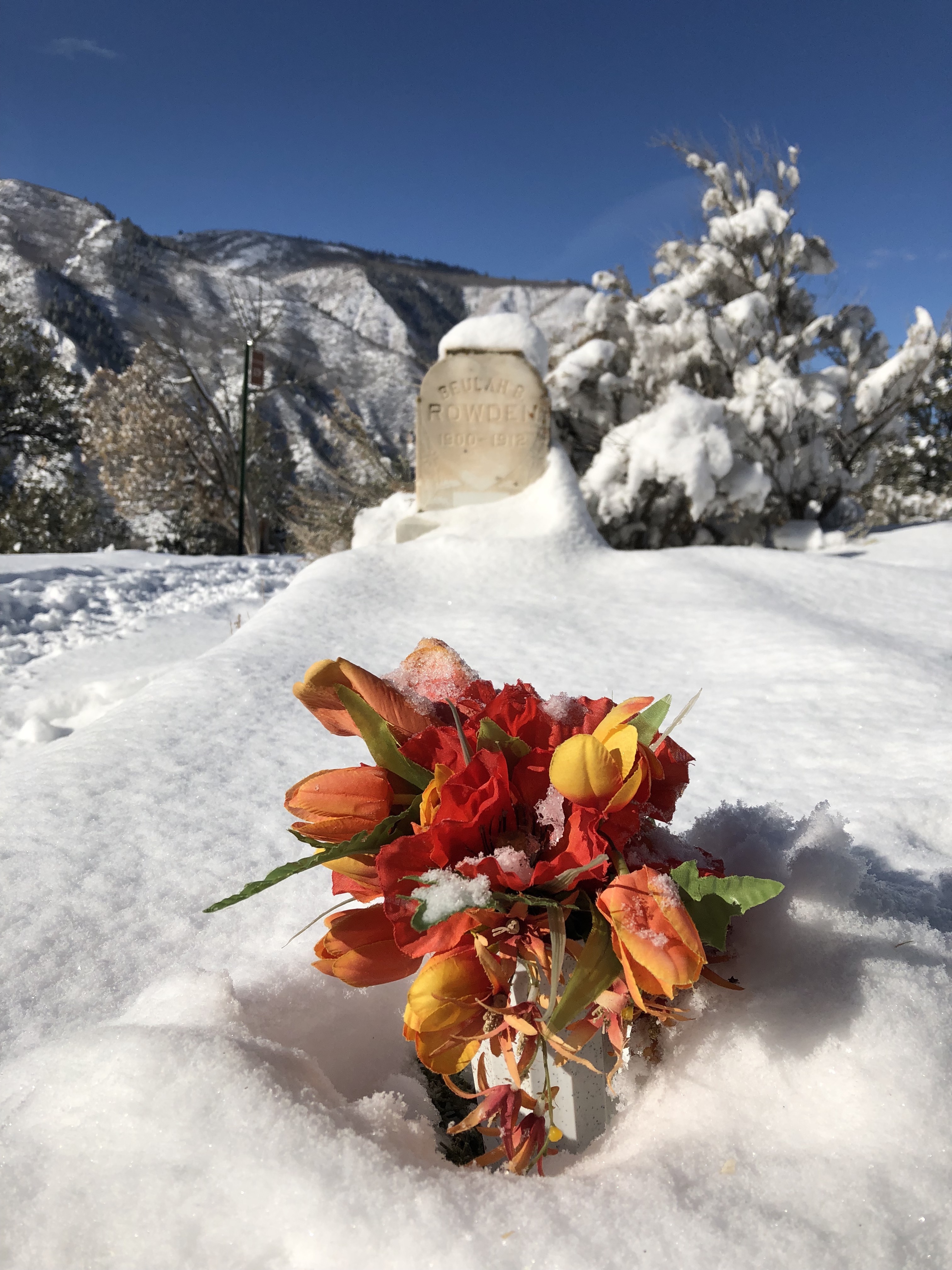 I spent quite some time wandering through the deep snow, enjoying the peace and silence among the permanent residents, taking some time to think about the year that was about to end.
The last two years had been marked by deaths in our family, and while we live too far away to visit our ancestor's graves on a regular basis, it did me good to visit this cemetery to reflect on what had been a very rough year in my life.
As I stood there, ice fell off the trees, too heavy to cling on and slowly loosened by the sun, making deep thuds as it hit the snow. Tiny ice crystals shimmered in the clear air as they flitted past me. The air was cold and clean and a joy to breath in huge lungfulls. Bright sunlight reflected of the snow everywhere. All around me, the world was for a moment as beautiful and peaceful as it could possibly be.
I had gone through a long deep valley, but now I was on a hill with a view.