My name is Thomas Sturm and I'm a programmer, photographer and writer.

Now go outside and look at the sky.
Watercolors in the Rain
My photo "Dancing across Broadway" has long been a favorite of mine and so I was delighted when I got a request from Amanda Spencer if she could use it as inspiration for one of her watercolors...
...andhere it is!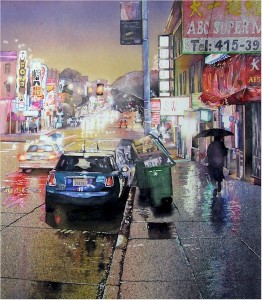 Amanda did a great job with this picture - I really love the way she captured the dark & wet atmosphere of that evening, with the glittery lights of broadway reflected in the rain-splattered street.
The textures in this painting are amazing - it's certainly something I haven't seen done in watercolorsbefore.
Great job, Amanda!