My name is Thomas Sturm and I'm a programmer, photographer and writer.

Now go outside and look at the sky.
Pacific 0 - Bojangles 1
Friday morning while I was getting ready to move my bike out for the ride to work, I heard on the radio that there are two men in a boat coming in under the Golden Gate Bridge... from Japan!
My first thought was - "Well, that makes my commute look insignificant!" and the second thought was - "Wait - if I speed up a little bit through Sausalito, I can see these guys!". So off I went, biking at full speed (not as fast as you may imagine, trust me) up the hill to the bridge, and there they were - they had just passed under the bridge and were surrounded by a small fleet of boats, guys on surfboards and even a news helicopter: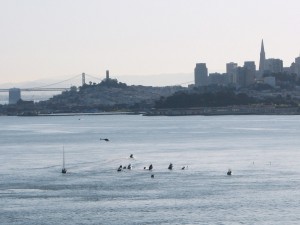 I figured that they would probably go towards the Marina, and I kept an eye on the group of boats while I crossed the bridge and rolled down through Crissy Fields. As it turned out, the timing was perfect: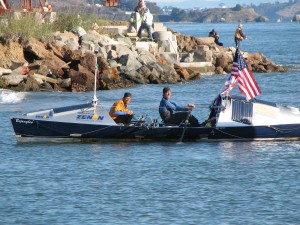 Meet Mick Dawson and Chris Martin, who in their boat Bojangles just finished rowing across the Pacific Ocean from Japan to the US. It took them 189 days on the open ocean to complete this amazing feat.
Yesterday evening I spent several hours reading through their very entertaining blog Golden Gate Endeavor and it is just amazing to follow along from day to day with their struggles. The Pacific Ocean did not make it easy for them, that's for sure! The weather was often brutal, and on a number of days the wind and the currents did everything to push Mick and Chris back towards the East.
So Congratulations to the crew of the Bojangles! And thanks for taking us all along on your expedition across the ocean - the blog and the pictures of your adventure are quite fascinating and very inspirational.