My name is Thomas Sturm and I'm a programmer, photographer and writer.

Now go outside and look at the sky.
Hold on to Your Helmet
Here a picture from my latest Found Film: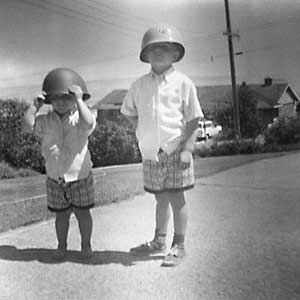 Hold on to your helmet - and secure those pants, too!
This image was one of about 4 usable shots on a roll of Kodak Verichrome Pan 620 film, all the others were double exposures or destroyed when the camera was inadvertently opened.
The film came together with a Kodak Brownie camera and several unopened boxes of film. These boxes had expiration dates between 1960 and 1962, so it is a save assumption that this picture was taken sometime in the late 1950s.
It is another beautiful family moment, slowly starting a theme together with the earlier found films.
I have been wondering - and indeed I have been asked - why I care about these old films that are bouncing around eBay, undeveloped and unseen. For me there are several reasons why this is interesting. These films are like an archaeological dig into our recent past, unearthing small pieces of what is already a different century.
And on a very personal level, there is a lot of nostalgia bottled up in these films. These pictures are very similiar to all the photos in our own family albums, and through their anonymity they turn into a generic family history, showing typical moments that we can all identify with.