My name is Thomas Sturm and I'm a programmer, photographer and writer.

Now go outside and look at the sky.
Spruce Tree House
I've posted a different photo from the Spruce Tree House in the Mesa Verde National Park before, but during my recent re-scanning campaign I found this very nice shot of the same place.
I have fond memories of our stay in Mesa Verde. It was late in the season and some of the sights were already closed in expectation of winter. The park was nearly deserted with only a handful of tourists on the loop road and small groups of deer strolling freely along the roads and parking areas.
The Indian ruins in Mesa Verde are simply stunning. Most of the little communities were built into naturally hollowed out areas along the cliff faces in the steep canyons that run through the mesa, and many of them are hard to reach even with ladders and metal stairs in place of the old climbing paths that the original inhabitants used.
On this specific autumn day the light was glorious and it bathed the ruins in a flood of yellow and gold. We will be back another time, I am sure...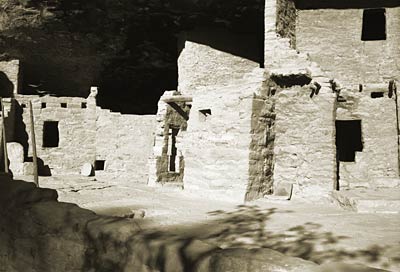 Photo taken with my Kodak Medalist on Ilford Delta 100. Click for a larger view.