My name is Thomas Sturm and I'm a programmer, photographer and writer.

Now go outside and look at the sky.
Monument
Every now and then I go back and re-scan some older negatives that haven't received the full-sized medium format scan treatment yet.
Almost three years ago we went on an epic road trip through a large part of Arizona and Utah and among many other amazing places we spent a day in Monument Valley. It was a glorious morning with a quite remarkable sunrise over the distinctive rock formations of the valley.
We drove along the self-guided road that passes through the park and took many pictures. I had brought my Kodak Medalist, but for some reason it felt even more cumbersome than usual to use, so I only shot one roll of 620 film on that morning, which was probably a mistake since the wide landscape with the harsh lighting conditions was perfect for the Medalist's lens. Here is one of the eight shots on that roll.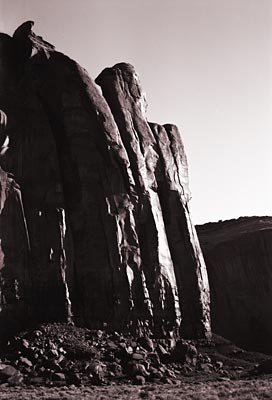 Photo taken with my Kodak Medalist on Ilford Delta 100. Click for a larger view.