My name is Thomas Sturm and I'm a programmer, photographer and writer.

Now go outside and look at the sky.
San Francisco Noir
This is a crop from a larger photo I took a few months ago on Sutter Street in San Francisco, late at night on my way home from work.
The photo has been doing rounds on my harddisk ever since, because I couldn't really figure out what was wrong with it. Well, the tree just to the left of the car was wrong, and now it's gone. I like it this way much more. It captures a lot of what I like about San Francisco at night, and the vintage car just makes it perfect. You almost expect Sam Spade to walk across the street any moment now...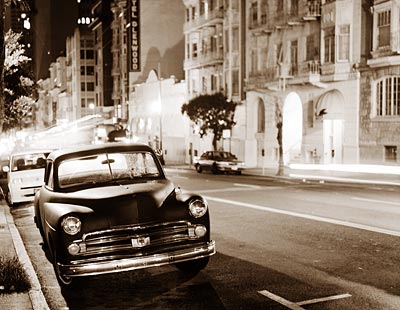 Taken with my trusty Kodak Medalist on Ilford Delta 100. Click for a large version.